The Man Behind Our School's Name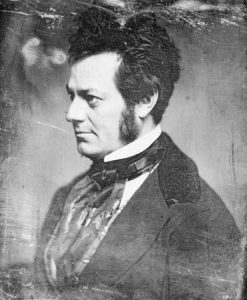 Edwin Forrest (1806-1872) is often called the first American-born actor to star in the great classic plays written in the English language. When he was born in Philadelphia in 1806, most of the famous actors working in America were Englishmen. Many people thought that America was too backward a place to produce great actors. But Edwin Forrest thought that the plays of Shakespeare and other English authors were his birthright too, and by the time he was thirty he was a star on both sides on the Atlantic Ocean.
While he was still a young man-about the time his portrait was painted-Edwin Forrest had two ideas that were quite new. First he decided that someone should write plays with American stories and American characters. To make this happen he held a contest every year with a cash prize for the best play about Americans, which he would act in himself. One of the first to win was about a Native American brave named Metamora.
Audiences loved Edwin Forrest, and he acted in plays all over the United States and in Europe. He earned more money than any other actor in the 1800s. He built a castle on the Hudson River near New York City and a brownstone mansion on Broad Street in Philadelphia, where the actors of the Freedom Theater put on plays today. He bought a house in the country with a hundred acres of land, where he could relax when he had short breaks between plays. That house was near where the Edwin Forrest School is today. Most of Holmesburg was farms and open country then.
Edwin Forrest's second great idea was to start a home where actors could live when they were too old or sick to work. He knew that actors traveled all over the country to find work and often did not have homes or families to take care of them. When Forrest died in 1872, he left most of his money to make Springbrook – his country house in Holmesbury-into a home for retired actors. In the 1920s Springbrook was sold, and a new Actors' Home was built on Parkside Avenue in Philadelphia. Finally, in 1988, the Edwin Forrest Home in Philadelphia was sold land the money was given to another Actors' Home in Englewood, New Jersey, where more retired actors can be taken care of-thanks to the generosity of one of America's greatest actors. A wing at the Lillian Booth Home is named in honor of Edwin Forrest.
After Forrest's death, his home on Broad Street remained vacant until 1880 when it was purchased by the Philadelphia School of Design for Women. In the 1960s, it became the location of Heritage House, a community center for young adults, before becoming the home of the Freedom Theatre, Pennsylvania's oldest African-American theater founded in 1966. Freedom Theatre continues to offer classes and performances in the former Edwin Forrest House.
In Philadelphia, Forrest and his contributions to American theater are remembered in a variety of ways. The Forrest Theatre at 1114 Walnut Street is named after the actor as is the Edwin Forrest Elementary School at 7300 Cottage Street. In 1990, the Walnut Street Theatre established the Edwin Forrest Award recognizing an individual or organization's significant contributions to American theater. On March 9, 2006, Philadelphia celebrated Forrest's 200th birthday by declaring March 9 "Edwin Forrest Day" and collecting donations at local theaters for the Lillian Booth Actors' Home of the Actors' Fund of America.